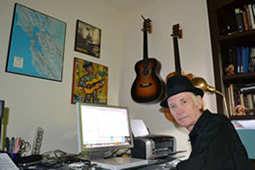 Dale spent 45 years playing guitar and arranging for guitar, thinking about guitar techniques and guitar arrangements, and writing about guitars and guitar styles. To accompany his Kicking Mule LPs, he produced influential method books and then wrote articles for many music publications. For many years he answered questions in Ask AG (Acoustic Guitar). Back issues of Acoustic Guitar Magazine feature his articles, interviews, reviews and instructional pieces. His instructional articles also have been included in books such as Acoustic Guitar Magazine's Best Private Lessons Book/CD. His feature article on John Fahey from Acoustic Guitar Magazine is archived at johnfahey.com.
Dale owned and played guitars built by Leach Guitars, C.F. Martin, National Resophonic, Roomian Instruments, Schoenberg Guitars, and Guild Guitars, and he shared what he had learned along the way on his website. Below, in Dale's own words, are his musings on his guitars, equipment and his unique guitar style.
Guitars
When I began playing in the early 1960s nearly everyone agreed that the C.F. Martin company made the best wooden acoustic guitars. Guild was also a respected company. Pre-WWII guitars made by Martin, Gibson, Prarie State, Bacon and Day and others were prized. Things began to change rapidly as folk music became more popular and as the hippie culture embraced the idea of making things by hand. Taylor, Santa Cruz, Collings, and other companies sprang up to challenge Martin. Gibson went back to their roots and began to produce excellent instruments as well. At the same time, small "boutique" makers appeared.
Other makers I admire include Somogyi Guitars, Bourgeois Guitars, Rick Turner Guitars, Julius Borges Guitars, Bruce Sexauer, David Flammang and Lowden Guitars. New Era Guitars makes reproductions of some famous pre-WWII instruments. Professionalluthier.com and Luthier's Pride are organizations that connect players and builders. This is just a small percentage. My advice — find out what instruments your favorite players are using and check them out.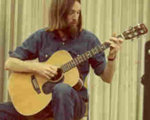 My first guitar was an "el cheapo" Harmony arch top which died after being checked onto an airplane in a soft case. Soon after, in 1964, my parents bought me a new Martin D18 as a reward for surviving New Mexico Military Institute. I traded the D18 a year later for a newly released Martin D12-20 which I played during my Peace Corps service in Chimbote, Peru. After a few months I removed six of the strings and played it as a six string. The Martin 12 was stolen towards the end of my two year stint, but luckily I was able to borrow a locally made nylon string. On returning to the U.S., I purchased a beautiful new Brazilian rosewood Martin 00028. I kept and cherished it for many years and used it to record Fingerpicking Rags and Other Delights.
In the mid 1970s guitar builder Mark Holsman built an OM style guitar for me, which I used to record Guitarist's Choice and Fingers Don't Fail Me Now for Kicking Mule Records. It became my main touring guitar during the decade I worked as a full time professional guitarist. It had unstained mahogany back and sides with a spruce top and ebony fingerboard and bridge. The inlays were stars.
In the early 1980s I sold the Holsman and Martin 00028 and purchased a 1930 Martin OM 18 which I had coveted for many years. At the same time I learned slide guitar and bought a 1936 National Style O at Union Grove Music in Santa Cruz. This is the same year and make as the guitar played by Mark Knophler and pictured on the Dire Straits album cover, Brothers in Arms. Like all shiny Nationals it is made of nickel coated brass. Unlike most Nationals, it has 14 frets clear of the body. In the 1990s I had a Highlander Pick-up installed. The "extra" two frets are convenient for playing up the neck, and this guitar has an excellent tone but I think the Style 1 sounds better. This National Style 1 Tricone was built in the late 1990s at National's San Luis Obispo factory. It is equipped with a factory installed Highlander piezo pick-up. It is a faithful reproduction of the first National guitar ever built in 1926 and features three separate vibrating cones. These instruments are easily the loudest acoustics built, but power is not their only attribute. They are capable of producing a sweet and complex tone, especially when played with a slide.
In 1985 I became part owner of Noe Valley Music, a guitar shop located in San Francisco. I began to play many different instruments. I also developed a relationship with Don Young who worked for Dobro. Later Young became co-founder of the modern incarnation of National Guitars. Noe Valley Music became one of their first retail outlets. Later, in a phone conversation with Young, he mentioned he was thinking of reintroducing a solid body resophonic instrument. I strongly supported this idea and gave some input, suggesting a pickup that was eventually used. When the instrument was launched, Young offered me an opportunity to buy the first one which I accepted and became the proud owner of the Resolectric - serial # 001. I used this guitar when I played lead for Chester D and the Blue Shadows. Once, at the request of Young, I lent this guitar to Keith Richards of the Rolling Stones for evaluation.
I also established a Martin dealership at Noe Valley Music and in 1994 fulfilled a life long dream when I received an offer I couldn't refuse on the OM 18. I replaced it with a new Martin 000 16. This OM style guitar was built in the C.F. Martin Custom Shop. It has rosewood back and sides with a sunburst spruce top, ebony fingerboard, bridge and head stock veneer with a torch inlay. My initials, DTM, are inlaid on the highest fret. It features a factory installed L.R. Baggs dual source pick-up. I used this guitar along with the National Style O to record Both of Me and it was the main instrument used to record Azzurro Verdi.
I bought this Guild D4 in the 1990s because of its unique black to gray sunburst top. I installed a RMC Acoustic Gold Polyphonic pickup in place of the saddle. The RMC pickup senses each string independently and can drive a guitar synthesizer. It controls a Roland G-50 midi converter which sends out a mono guitar signal and a stereo synthesized signal which can go into a stereo p.a. system or a pair of amplifiers. I usually program the three bass strings and three treble strings differently — for example, a string bass and trumpet. This is a case of "the tail wagging the dog" as the pickup and converter are more valuable than the instrument itself.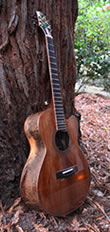 This gorgeous Harvey Leach custom Cremona model guitar has walnut back and sides, a redwood top, a mahogany Voyage-Air style neck and an ebony bridge and fingerboard. It is roughly the size and shape of an OM with the depth of a dreadnaught. It features custom inlays. The guitar folds to fit in the overhead bin of an airplane. Leach is a former furniture maker, and the hinge he invented for his custom and mass produced instruments is a marvel. Teddy Randazzo of Dazzo pickups made a special trip up to my home to install a fabulous pickup system on this instrument. It consists of two Dazzo 60 piezo pickups. I output these to a L.R. Baggs Para Di preamp, as recommended by Dazzo.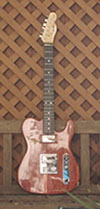 This handmade "tele" shaped guitar was built in 2007 by long time friend Doug Roomian of Roomian Instruments in San Francisco. It has hollow chambers beneath a bubinga wood top and Seymour Duncan pickups (SH 4 JB bridge - SH 1 neck). I had the neck built with the overall width, string spacing and frets similar to his OM style acoustics and play it through a Fender Blues Junior amp.
This OM style guitar has Koa wood back, sides and top, a mahogany neck, ebony fingerboard and bridge and a strip of rosewood vaneer on the headstock. It was built in Eric Schoenberg's small manufacturing facility in Littleton, Massachusettes between 1996-1999. The main luthier there was Julius Borges. He had two to four other workers during this time including John Slobod and Steve Ryder. I bought this excellent instrument from Schoenberg at his Tiburon store in 2005. Later he installed L.R. Baggs Dual Source pickups that combine a microphone and a piezo under the saddle.
I first became aware of Schoenberg as a player from his 1971 recording, The New Ragtime Guitar. We crossed paths from time to time in the 1970s. After not seeing each other for 20 years we came face to face on a path in Nafplio, Greece in 2001. Luckily, Schoenberg was carrying a guitar or we might not have recognized each other.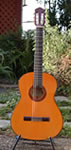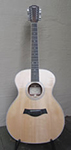 I've bought and sold many beautiful guitars, including a Soloette travel guitar, a Conde Hermanos Flamenco and a Grand Concert sized Taylor 12 with sapele back and sides, spruce top, mahogany neck and ebony fingerboard.