Biography
Dale Miller was born in Washington, D.C. in 1944 to Dale and Scooter Miller, two transplanted Texans. He developed a love of music first from his father, Dale, Sr. who sang him and his younger brother, Mead, to sleep with cowboy songs and pop tunes from the 1920s and 1930s. His older sister Marta, an Elvis Presley fan, introduced Dale to Rock n' Roll and later to folk music when she brought home an LP of the Kingston trio. Dale was also listening to R&B and Gospel on the African American radio stations serving Washington D.C. He especially liked Jimmy Reed and would later perform several of his songs.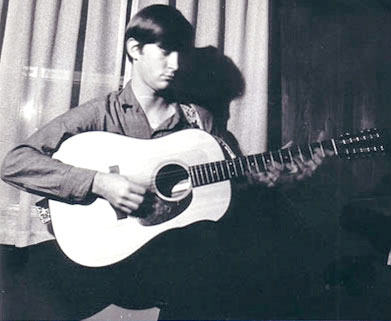 Dale took up the guitar while a student at the New Mexico Military Institute. The summer of 1964, while he was working at the Texas Pavilion at the New York World's Fair, he rented an apartment in Greenwich Village, thrilled at living where Bob Dylan and Peter, Paul and Mary had lived and performed. It was around this time that he discovered the recordings of John Fahey, the principal figure in establishing the steel string guitar as a solo concert instrument. Following Fahey's lead, he began listening to and learning from the blues players from the 1920s, 30s and 40s, such as Mississippi John Hurt, Skip James, Son House, Etta Baker, Mance Lipscomb, and Memphis Minnie, and studying the method books of Stefan Grossman and Happy Traum.
As a student at the University of Texas, Dale fell in with the rich musical scene in Austin. Musicians he jammed with, listened to and/or learned from included: Lightnin' Hopkins, Mance Lipscomb, Janis Joplin, Toad Andrews, Allen Damron, Bill Moss, Bill Neeley, Kenny Threadgill, Powell St. John, Kerry Rush and The 13th Floor Elevators.
Dale spent two years in the Peace Corps in Chimbote, Peru. With evenings free and little social life he was able to practice guitar up to four hours an evening, developing his unique style characterized by walking base lines using his right thumb and middle fingers. He then spent one year as a Vista volunteer helping migrant workers in Utah before he hitchhiked out to San Francisco to join the music scene there. He played in various small coffeehouses as a solo guitarist, with a vocalist and occasionally with a band. Later, Dale returned to Salt Lake City to study music theory with Bill Fowler at the University of Utah, giving him the knowledge to begin to do his own arrangements of all types of music for solo guitar.
In 1972 during a six month trip to Europe and Northern Africa, Dale hooked up with Stefan Grossman in Rome and recorded a few solo guitar tunes which were included on Contemporary Ragtime Guitar, an LP on the newly created Kicking Mule Records. Dale soon became the best selling American based artist for that small but influential company, founded by Grossman and ED Denson. Dale toured internationally throughout the rest of the 1970s, playing at colleges, folk clubs and folk festivals. He recorded three solo LPs for Kicking Mule — Fingerpicking Rags & Other Delights, Guitarist's Choice, and Fingers Don't Fail Me Now. He was included on the anthology I Got Rhythm and also produced LPs by Duck Baker and Nick Katzman.
In the mid-1980s, Dale's good friend Doug Roomian, a guitar maker, asked him to join the ownership of Noe Valley Music, a guitar shop in San Francisco, where Dale remained until 2000, manning the counter, teaching lessons and jamming with local guitarists and fans. During these years, Dale continued to play locally, mostly soloist gigs. But he also played some duet venues with other guitarists such as Amos Garrett, Danny Kalb, and Roy Rogers. He spent a year playing slide guitar with Chester D. and the Blue Shadows and he teamed up with two singers from time to time — Kaeiti O'Ghara and Alison Faith Levy.
Dale also was involved in concert promotion, most gratifying to him, bringing John Fahey to San Francisco for several successful shows. And, he was a regular contributor to several music magazines, most notably Guitar Player Magazine and Acoustic Guitar Magazine. His articles included interviews, features, reviews and instructional pieces.
Dale established Dale Miller Productions in the early 1990s. Its first release was Both of Me — a recording of over-dubbed duets of jazz standards with Dale accompanying (with his Martin OM) his own slide leads on the National guitar. 2001 saw the release of Dale's CD Azzuro Verdi, Arias for Solo Blues Guitar. Dale had adapted, arranged, learned and recorded solo guitar versions of opera arias, combining two of his loves — blues and opera. In 2002 Dale Miller Productions released Stars Fell, an EP Length CD featuring Alison Faith Levy with Dale on solo guitar accompaniment. April 2008 saw the release of the CD Time Goes By with updated arrangements of some of Dale's "hits" from the 1970s — a project that had been percolating in his mind for some time.
In 1996 Fantasy Records re-released Dale's 1974 Kicking Mule LP Fingerpicking Rags and Other Delights and contracted with Dale to produce a compilation CD which became Guitarist / Composer Sampler. Dale recorded Fahey's tune, Sunflower River Blues to kick off The Revenge of Blind Joe Death: The John Fahey Tribute Album. Dale's new and old music was heard on re-releases by Stefan Grossman, recordings of his compositions by other guitarists such as Calvin of Mooset and Teja Gerken and on the You Tube Channel he established which now boasts 52 videos.
Dale had been an early user of Myspace and subsequently an avid Facebook user. Through social media, he reconnected with old guitarist friends and fans and made many new friends. He was able to meet some of these friends as they came through the Bay Area and others he visited on his travels to Europe and Australia. He and his wife especially enjoyed their stay in Tasmania with Steve and Marjorie Gadd when Dale played at the Cygnet Folk Festival in 2012.
In November 2012, Dale's brother Mead died after a bout with cancer. A few months later, Dale himself was diagnosed with lymphoma. He died on August 13, 2013. During his illness, he wrote a blog and continued to record videos for his You Tube channel. At news of his death, Facebook was filled with tributes to Dale's musical talent, generosity and wonderful sense of humor.
Dale and his wife, Terry Helbush, lived in Berkeley for almost 30 years. Dale played guitar every day, but in addition, he had many and varied interests, passionately held. A long list would include his beloved San Francisco Giants and Texas Longhorns, World War II history, Bob Dylan, opera, movies — Clint Eastwood, Kurosawa and Samurai films, thrillers and mysteries, and cowboy history and culture. Dale and his wife traveled extensively — car camping in the West from Canada to Mexico and traveling to Europe, Russia, Australia, New Zealand, India and South America. Dale especially loved Italy and Venice, his favorite place in the world. He developed a passion for cooking and loved eating out, especially at Chez Panisse in the neighborhood. He doted on his cat Judy and dog Koz-B and his 1978 avocado Porsche 911SC. Dale had a long time connection with the Berkeley Path Wanderers Association, serving on their Board and leading walks, as well as with the tutoring program at nearby Oxford School.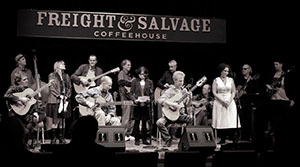 The Freight & Salvage Coffeehouse hosted a tribute concert for Dale in October 2013. Organized by Teja Gerken, fellow guitarists and musicians who celebrated Dale's music included, in addition to Teja, Alex DeGrassi, Peppino D'Agostino, Allegra Broughton & Sam Page (Solid Air), Pete Madsen, Doug Roomian, Steve Stein, Eric Schoenberg, Mark Silber, Allison Faith Levy, Lee White and Dennis White.